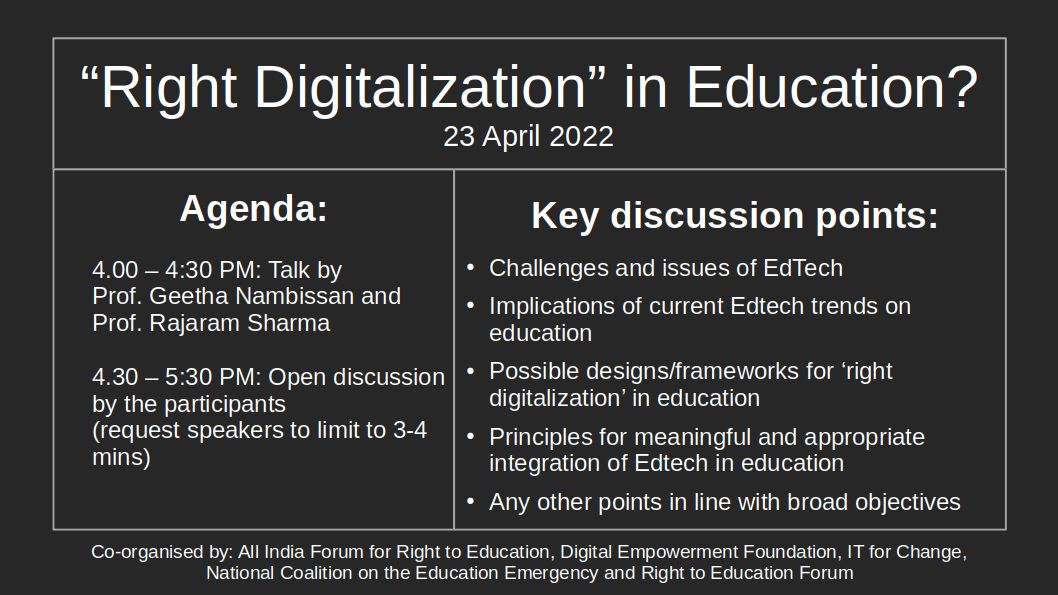 Digitalisation has been taking place across sectors for a while now but has gathered a lot of pace in the last couple of years, even more so during the pandemic. Specially in education, due to the unexpectedly long school closures, the role of digital technologies has increased significantly, as private and public education systems have attempted to provide digital education to their students through different means. Digital 'platforms', which facilitate interactions among various actors (including consumers, producers, advertisers, service providers, and suppliers), harvest data from such interactions, and generate data-based intelligence for optimizing value are becoming prominent in education as well (such as BYJU's or Google). Educators and researchers caution that digital technologies will worsen education inequities and the access inequities would cause a 'digital partition' of the country. Apart from harming the quality of education, there are also implications on teacher's role and agency.
There is a need to bring in critical perspectives on this issue to build a deeper understanding of the benefits and harms from technology integration in education, and tease out principles that should underlie its adoption, including the rightful manner of appropriating the 'value' of the data that is harvested through digital technologies. This value must be used to serve the aims of education, including that of building a just and equitable society and not be appropriated by for-profit companies.
A series of webinars are proposed to be organised over the coming months, through a collaboration of civil society actors, on different themes related to Ed-tech to create larger awareness of the issues/challenges in education which are caused/aggravated by digital technologies and possible design principles/programs. The process will also aim (over medium term) to build a broad network of scholars, practitioners, activists, government officials, media that will continue to pursue advocacy activities in Ed-tech, as well as knowledge building (through research) to develop wider awareness and deeper understanding of its desirable possibilities as well as harmful potential.
As a first of this series, a panel + open discussion is planned to discuss the challenges and the need/possibilities for 'right digitalization' in Education.
The session would be broadly divided into three sections as following:
Critique of how digitialisation is taking place in the sector – broad challenges in school and higher education and in current Edtech program designs and directions; identifying some key priorities – Prof Geetha Nambissan
Fundamental principles that must underpin any digitization efforts to be able to address the challenges and support progressive aims, and an outline of broad contours of a program for integration of digital technologies in the public education system – Prof Rajaram Sharma
Date and time: 23rd April 2022, 4.00 – 5.30 PM
Link – https://b3.teacher-network.in/b/gur-g94-hyn
Planned agenda:
4.00 – 4.50 PM: Talk by the speakers
4.50 – 5:30 PM: Open discussion and dialogue by the participants
The discussions on 23rd April will also feed into a workshop planned on 30th April in Delhi, which will be in the nature of a 'cross-sectoral' dialogue (similar events are being organized with groups/organizations working in Agriculture, Health, Labour and Trade. being organized by MKSS, IT for Change, Internet Freedom Foundation and other organizations). A few participants from the sector-specific events will share their inputs to evolve cross-sectoral principles in the event on the 30th of April.
The first few events would also help to identify the organizations that are interested to collaborate on this program.
Post meeting update
Key discussions in the meeting: