Health and nutrition
Due to lack of good nutrition, children are at risk of poor health
India now 94th rank on child nutrition
Mid-day meal is a legal mandate. Karnataka High Court judgment / directives
NHRC Calls for Reopening Schools in Staggered Manner, Restoring Midday Meals
CBPS Study on health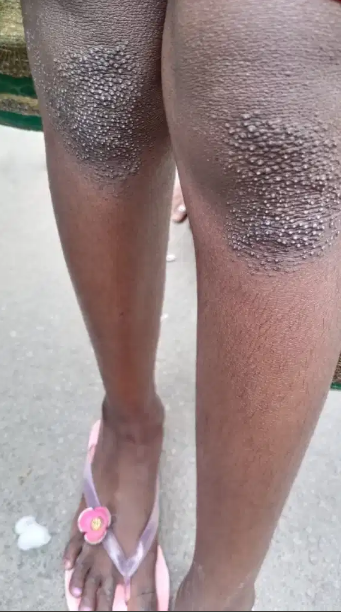 About 37% of girls from poor households are uncertain whether they would be able to return to school after the pandemic, according to a study which also found that as compared to 37% of boys, only 26% girls in such families have access to mobile and internet to attend online classes. While 52% of the households surveyed had a TV set at home, only 11% of the children accessed educational programmes on TV, says the study conducted in June among 3,176 families whose children attend government schools across five states— Uttar Pradesh ,Bihar Assam Telangana and Delhi.
India has a history of severe malnutrition in children. A recent study has ranked India 124 in the world in terms of the nutrition status of children.
Saw this at a camp today in a 9-year-old girl Case of phrynoderma or "toad skin" due to vitamin A deficiency. Other manifestations are night blindness, permanent loss of vision, repeated respiratory infections – Dr. Sylvia Karpagam
Child labor and school dropout
Child Labour And Child Marriages Increasing In Rural Areas As Children Are Not Going To School: Karnataka High Court
Child labour increased during lock-down
Children need education, livelihood / work should come later if they begin work, they will drop out of school
Early marriages end education
Poverty, school closure push up child marriages in Karnataka
Parents anxious about girl safety.
Girl children need education, early marriage is a wrong on them
"This one year could undo decades of work done for gender equality –
What hit me was a remark by one of the educationists in the panel -"This one year could undo decades of work done for gender equality." Unfortunate but true. The pandemic is widening the gender biases and it will only get worse for girls! Read more here : https://t.co/747dVDbFq6 pic.twitter.com/weF4TkT7IM— Farheen Hussain (@FarheenKHussain) November 27, 2020
https://platform.twitter.com/widgets.js
CBPS study on Girl's Education
Centre for Budget and Policy Studies and Champions for Girl's Education found that about 70% of the families didn't have enough food, which puts studies, especially the education of girls, most at risk.
Impact on learning
Early data on learning loss show big drop in math, but not reading skills
Children devastated by learning loss, generations will suffer
The long absence from schooling is causing enormous and irreparable loss to our children. They are forgetting what they have learnt earlier. This learning loss will be difficult if not impossible to bridge later
It will cause unacceptable levels of school dropout later as students find it difficult to cope due to their learning loss
A Student's Death by Suicide Is the Cost of Inequality
Research
http://cbps.in/news/life-in-the-time-of-covid-19-report-has-been-released